Specialist vehicle delivery; complete assignment handling
Skilled, knowledgeable, professional drivers assigned to each shipment
Drive or trailer delivery of any vehicle, to any global location
Press and demo fleet delivery
Vehicle fleet running-in contracts
Precision and performance driving for film and photo shoots.
Many companies offer specialist vehicle transportation, but do they use professional drivers you'd trust to see the whole job through? Wouldn't it be good if the delivery driver also had the knowledge and driving skills to present the product to the customer and to demonstrate its technical features? With Pro2, all bases are covered.
We offer a discreet service for a variety of requirements, from large contracts with car manufacturer press and demo fleets, to ad hoc photo and film shoots. Not only can we can drive or trailer the vehicles to the destination, we can manoeuvre the vehicles with precision, explain the technology and take the customer on a test drive. We take care of all handover administration in the most professional manner.
We are trusted by Lotus and Land Rover to deliver both production and prototype vehicles around the world.
Other recent examples of our work include:
A VIP customer delivery to Monaco
A delivery of a one-off prototype vehicle to Germany
A week long project supporting promotional filming in Morocco
A delivery to a national radio DJ of a one-off vehicle he'd won in a charity auction.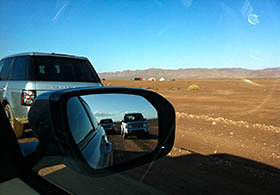 "We are trusted by Lotus and Land Rover to deliver both production and prototype vehicles around the world."